By choosing one or more of the programs below you find a simple solution to start your online business.
First you need traffic before you start your business. Most people do the reverse and see minor results. So why not start in the right end?
Traffic Exchanges and safelists above are one easy way to start with. And by easy I don't say that you can just sit down and watch. It's about a snowball rolling and after some time it is getting bigger and bigger without you pushing. With the TripleA Plan your path is safely laid out.
There is NO business without work!
Do You Want a peak into The Plan?
Download it below by clicking the image!
There are two sites in close connection to ConversionSurf and the plan.
The most exciting is Referral Frenzy which does all the mail work for you.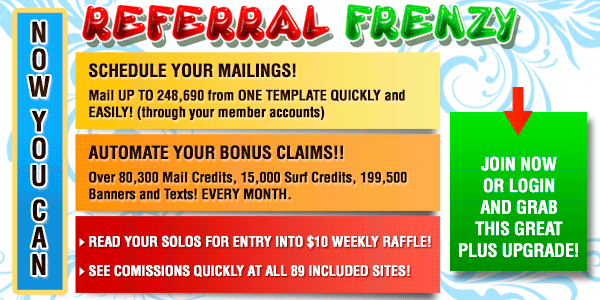 And the other site keep your referrals safely to YOU!
Do not give them away for free, keep them!
Finally, those two sites give you HUGE bonus credits well worth the money many times over and over again every month.
Some Tips
My web browser doesn't show pages
One reason for this could be your DNS
Do this procedure as Admin on your computer once and awhile:
Press the key combination [Win-Logo]+[X] and opening a command prompt as an admin
Run these commands, Enter after every command
ipconfig/flushdns
ipconfig/registerdns
ipconfig/release
ipconfig/renew
netsh winsock reset
Restart Windows
I don't know if you are a computer savvy or not. Now days many employers take for granted that their employed are in that situation. However in my experience, this is not the truth.
I have meet young adults with very little knowledge about the most crucial daily computer tasks.
So this is not always an issue for us elderly users, it's a common problem.
As marketers we tend to do much hours and tasks behind our computers.
In promoting my business I have a very common task which I will show you some shortcuts to speed up your work. Copy and paste.
Copy and Paste allows you to copy (or cut) what is on your computers screen,
and paste it into another document, such as web page text or HTML code, or text in an email message.
1. To copy, place your cursor at the beginning of the data that
you want to copy
2. Hold down the left mouse button, And drag the cursor to the
end of the data (text) you want to copy.
3. And release.
4. The data (text) should now be highlighted.
5. Right click your mouse with your cursor over the highlighted data (text).
A drop down menu will now& appear.
6. In this menu. Left click the text 'COPY'.
7. Then go to your document, (or new mail) and place your
cursor at the beginning where you want the copied data to appear.
8. Right click again, from the menu select 'PASTE' and left
click. The data you copied should now appear at your wanted space.
As I say often, if you have a problem you often find an instruction to solve your problem at YouTube. So below is a video showing how to copy and paste using your mouse. For MAC users you will also find a similar instruction by a search.